News from the field - HEAR
February
The Met Office has declared it the driest February for 30 years, which has allowed the first split of fertiliser to be applied to crops and helped the more backward crops. On the whole, crops have come through the frosts well. However, evidence of CSFB larvae is starting to become apparent. Only time will tell the extent at which they sow havoc.
Figure 1 Met office weather average rainfall https://www.metoffice.gov.uk/about-us/press-office/news/weather-and-climate/2023/february-and-winter-stats
Pigeon damage has been regional, yet they have been persistent in some areas. Where they have been kept off crops, stem extension is underway. Remember if you have remaining BLW herbicide control, there is a narrow window to apply it.
Figure 1 HEAR variety Rocca in Nottinghamshire, 30th February
January
The weather turned cold into January and successive days of hard frost provided suitable conditions for Kerb applications and slowed disease development. Some areas have seen some pigeons grazing but this is very varied. Thoughts will soon turn towards the first fertiliser dose for spring applications as we leave winter.
Figure 1 HEAR variety Rocca in Nottinghamshire, 13th January
December
The mild November has helped smaller crops grow on and are now a good size heading into winter. Cold weather has arrived at last which has allowed the soils to be cool enough for Kerb applications for blackgrass control.
Figure 1 HEAR variety Rocca in Nottinghamshire, 19th December
Some Phoma is visible now in crops as well as CSFB larvae in stems.
Figure 2 Phoma
Figure 3 AHDB Phoma forecast https://ahdb.org.uk/phoma-leaf-spot-forecast
October/November
Crops are at varying growth stages, depending on drill date and moisture. The rain arrived in October and the mild conditions allowed backward crops time to recover. Thus far there seems to be low Phoma pressure in crops, but growers should keep an eye on forecasts. Given the mild conditions, pressure is bound to increase.
Grass weed control is the main focus of the month as weeds have been slow to emerge due to the initial dry conditions. Remember Centurion max stewardship has restrictions on timing in October and Kerb should not be applied until soil temps are 10 °C and falling. Soils remain warm in the mild weather and Kerb applied to warm soils will degrade quickly and give little to no control as well as increasing chances of it ending up in the water course.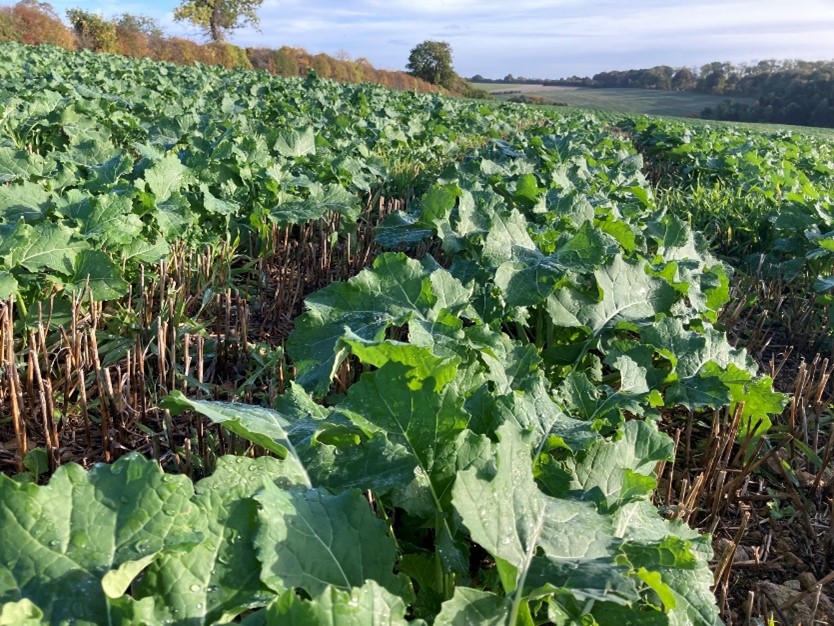 Figure 1 HEAR variety Rocca in Gloucestershire, 17th October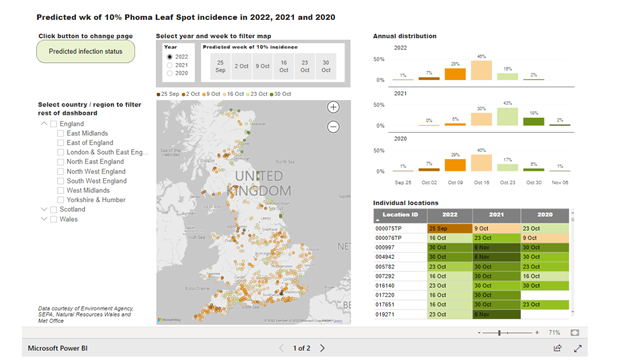 Figure 2 AHDB Phoma forecast https://ahdb.org.uk/phoma-leaf-spot-forecast
August / September
Planting has commenced for winter OSR. Like across the country HEAR crops are at different stages depending on drill date and moisture. Early August drilled crops are a good size, later ones are establishing. Conditions remain dry heading towards the end of September for some regions. With rain it is likely blackgrass will start to emerge and Centurion max is approved for use, alongside Kerb later. Please note Crawler is no longer available. Earlier sown crops will soon have a BLW spray or volunteer cereal spray.
Slug pressure has been higher than expected and care must be taken to ensure crops are not lost to these. CSFB numbers did not increase until September, it is generally accepted that resistance to pyrethroids are widespread that spraying in most instances will offer only minimal control.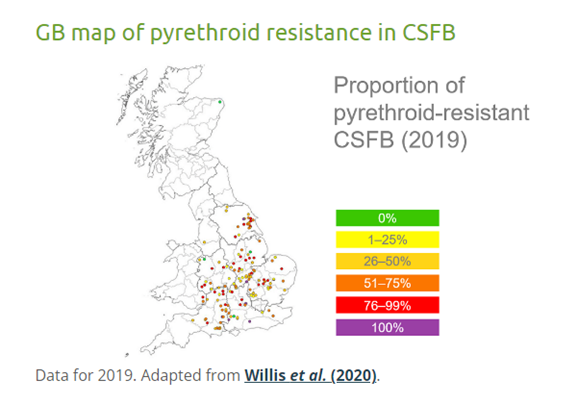 Source: AHDB https://ahdb.org.uk/knowledge-library/cabbage-stem-flea-beetle-csfb-treatment-thresholds-in-oilseed-rape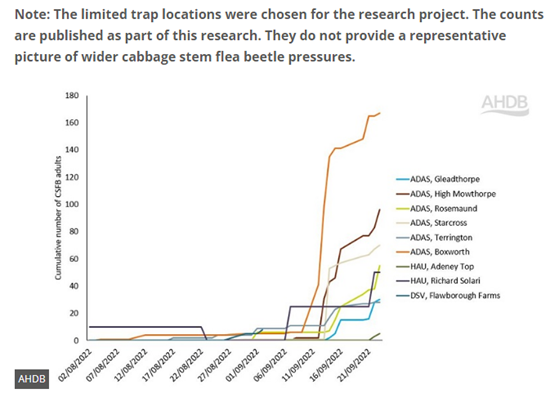 Source: AHDB https://ahdb.org.uk/knowledge-library/cabbage-stem-flea-beetle-csfb-and-its-management-in-oilseed-rape