News from the field - HEAR 2019 / 2020
July
Harvest got off to a good start, and is well underway.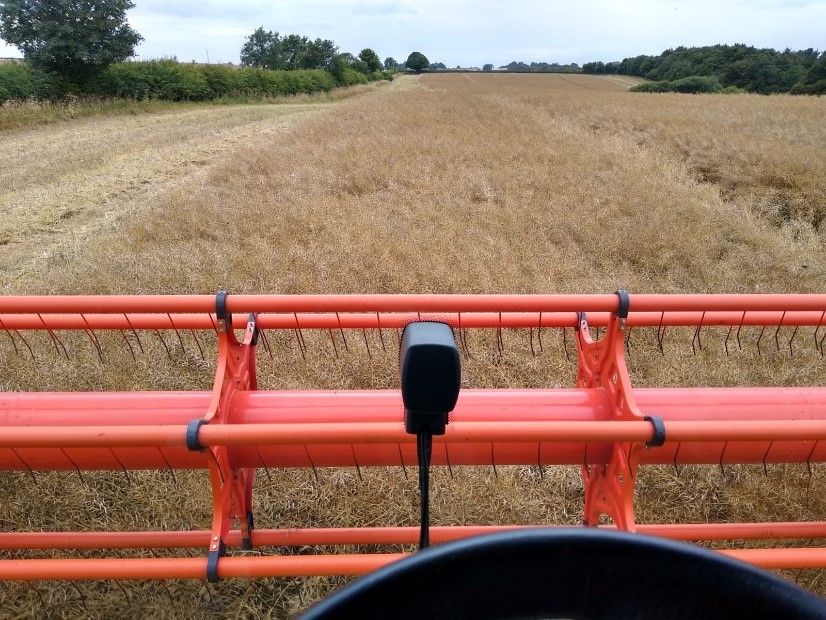 Those who have finished, will turn their thoughts to sowing for harvest 2021.
June
As temperatures remain high across the UK, Oilseed rape is nearing harvest with thoughts of desiccation taking place and some have even started harvesting. Growers should remember when assessing desiccation timing to get a representative sample of the field and make sure seed colour is correct for glyphosate use. If in doubt consult the Monsanto Roundup Harvest Management Guide.
Link for the Monsanto Roundup Harvest Management Guide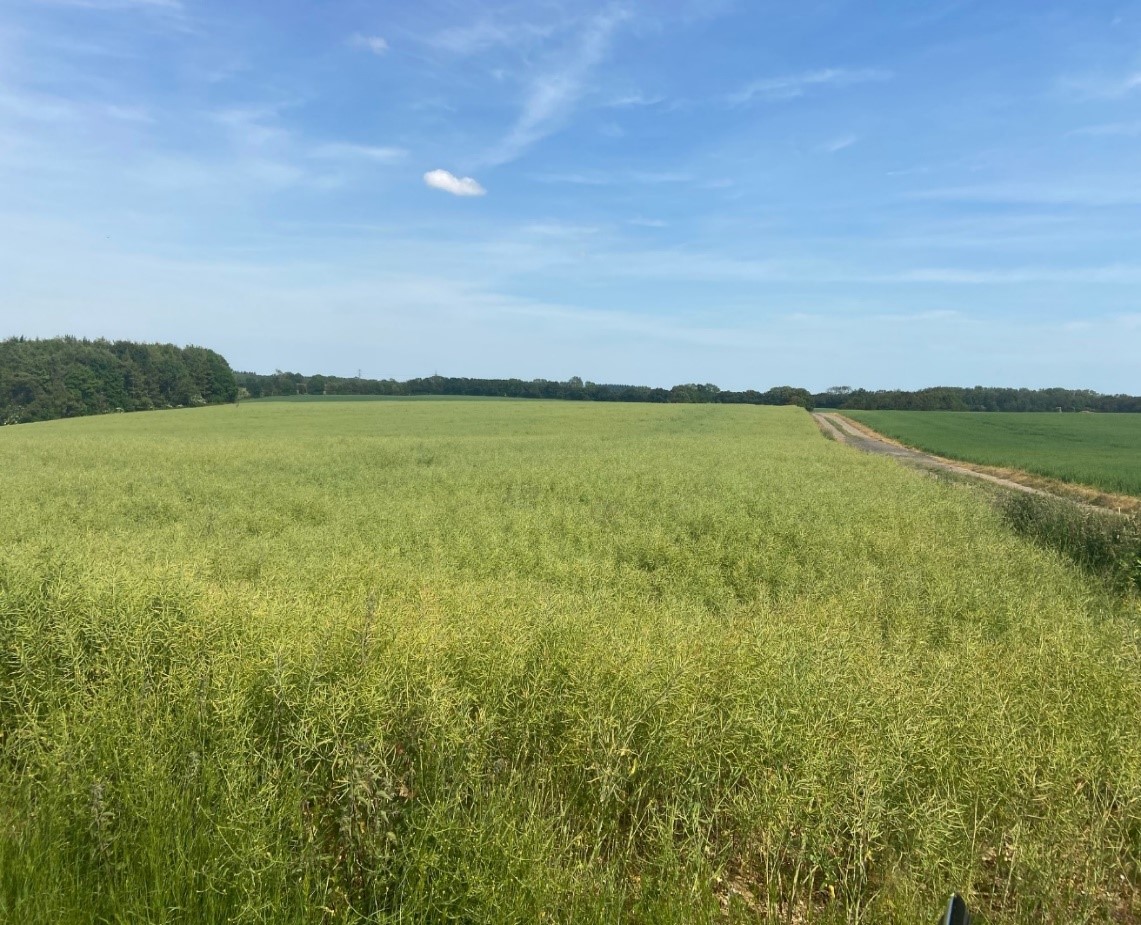 Late - November
Oilseed rape growth continues to slow down throughout the UK, as temperatures drop. Propyzamide applications are well underway to take out blackgrass. Please remember to apply propyzamide when temperatures reach below 8°c. Growth stages range from 16-20. Cabbage stem flea beetle have moved into the petioles of the plant where they will continue to feed throughout winter. Drilling early this year has proved to be successful, although canopy management is critical to avoid a tall crop and lodging. Early sown crops pose the risk to club root as the pathogen thrives in temperatures above 16°c.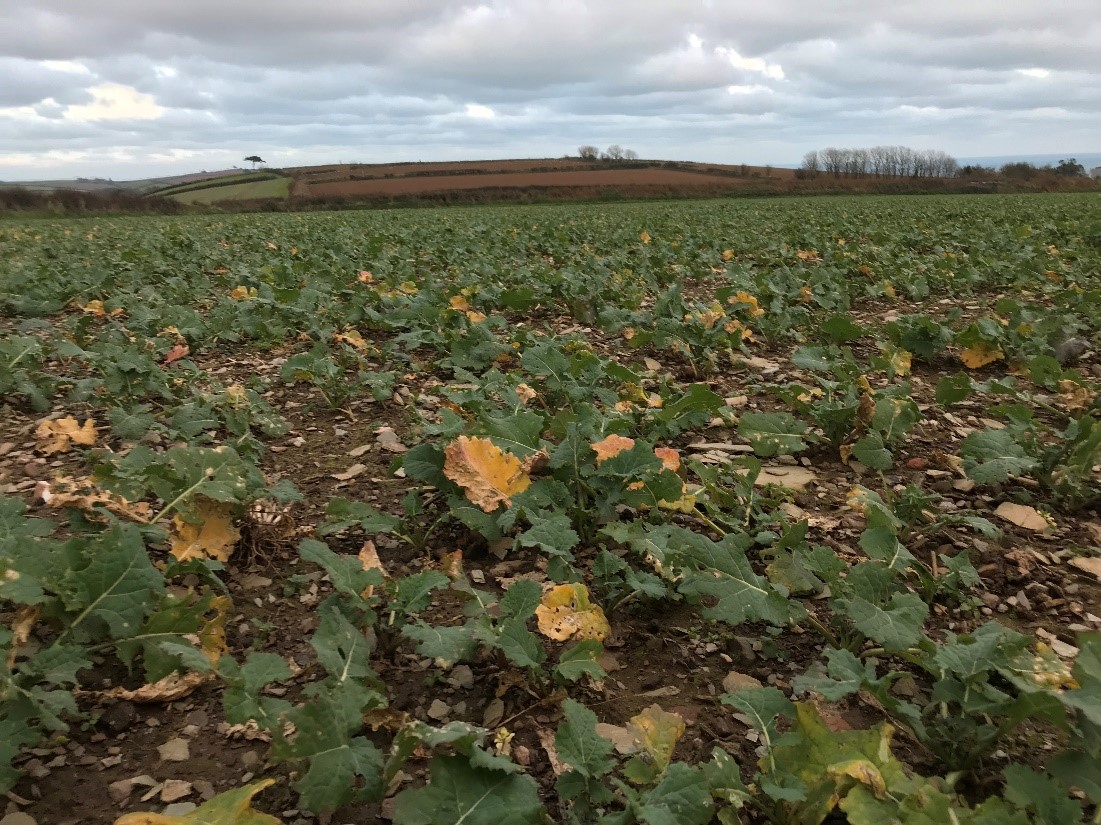 CSFB larvae are feeding in the petioles, over the winter they will feed into the main stem. Symptoms are shown in stunted plant growth and bare patches within the field. CSFB has been found as far west as Devon this year, so growers should be vigilant. With the high levels of rain, Phoma has been seen in many crops around the country. Prothioconazole sprays should be applied where thresholds reach over 10%, and a second spray applied 2 weeks later if infection spreads.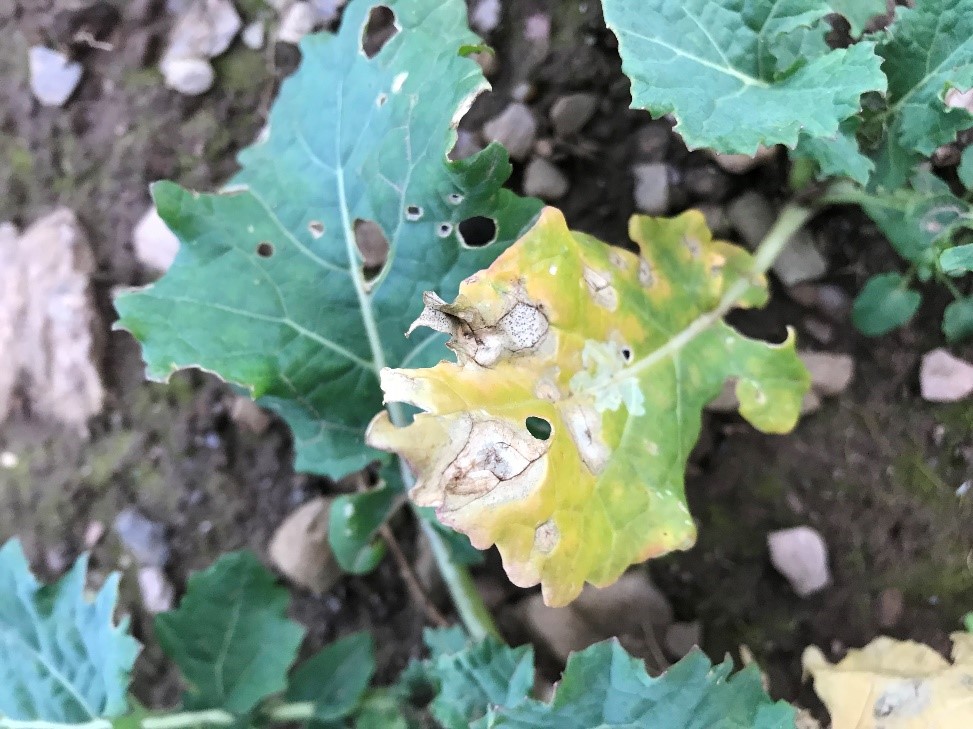 Early - November
This autumn has been certainly been a challenge for oilseed rape. The high levels of rainfall and cooler soil temperatures has slowed growth, whilst cabbage stem flea beetle are still feeding into late October. Temperatures under 4°c restrict larvae and flea beetle feeding. Phoma has become the main concern this Autumn, with wet weather favouring its development and spread (see Figure 1 for symptoms). On the AHDB phoma forecast, risk remains high at 10%. Please see: https://ahdb.org.uk/phoma for more information.
Where crops have reached the correct growth stage, Belkar can be applied for broad leaved weeds. Cranesbill has been more prevalent this year, Belkar will control Cranesbill whilst it is still small. Grass weed control has been challenging this year, due to heavy rain stopping machinery travelling and delayed germination during the September drought. For many grassweed and fungicide applications will be a priority on crops that are strong enough. Always check the label where tank mixes are planned.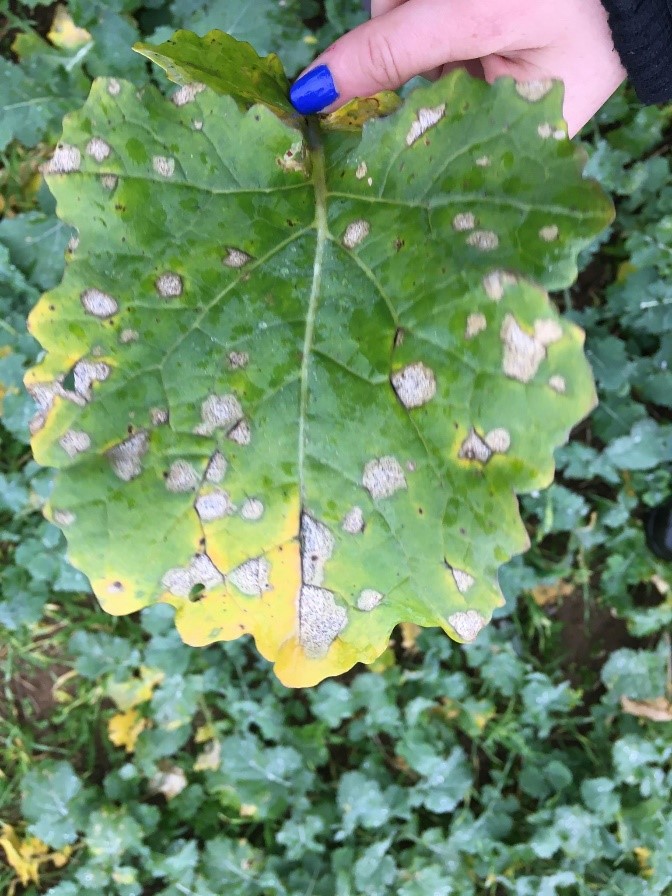 Slugs
Please remember to apply ferric phosphate or metaldehyde to control slug populations. Monitor slug thresholds (1 per a trap). For more information visit: https://www.getpelletwise.co.uk/
Rocca in Gloucestershire:
Rocca in Gloucestershire at growth stage 16 (six leaves unfolded) stomping away. DAP applied at the time of drilling gave the oilseed rape the boost it needed to get up and away from flea beetle.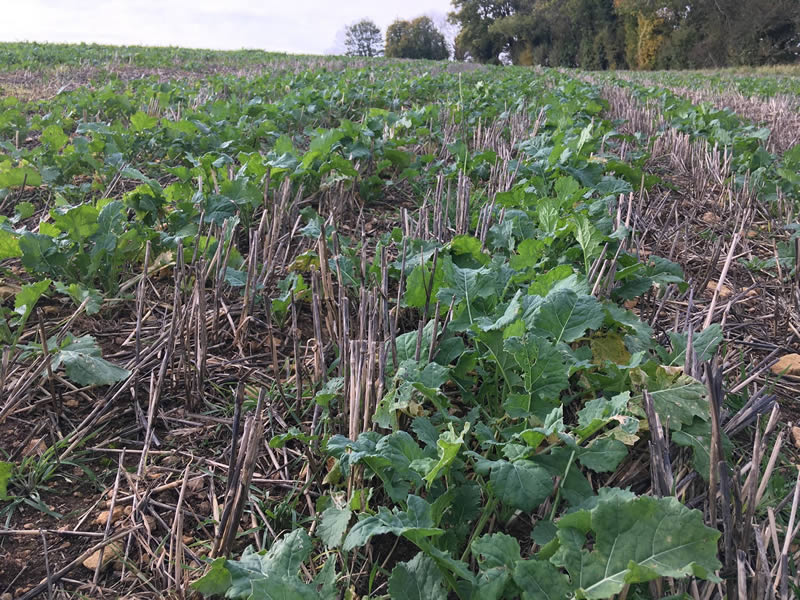 October
Temperatures remain high across the UK with the driest parts being in the south and east of England. Levels of CSFB across the country vary, earlier drilled crops have got established and away. Later drilled crops have struggled under dry conditions. The recent rain should help those late drilled crops to recover, and growers should not be too hasty to write crops off. Good crops of OSR should monitor for CSFB larvae populations, which have been found to be higher in earlier drilled crops in the past.
The level of pyrethroid applications have increased and have proved little benefit of control. Growers have sprayed for volunteer cereals to prevent any further moisture loss in the soil for the HEAR crop. The long-awaited rain and warm weather mean light leaf spot and phoma pressures could be high this year. Please monitor oilseed rape carefully to determine application strategy. Ideally apply tebuconazole and prothioconazole which have the greatest control. Growth stage vary between cotyledon to GS16 (6 leaves unfolded).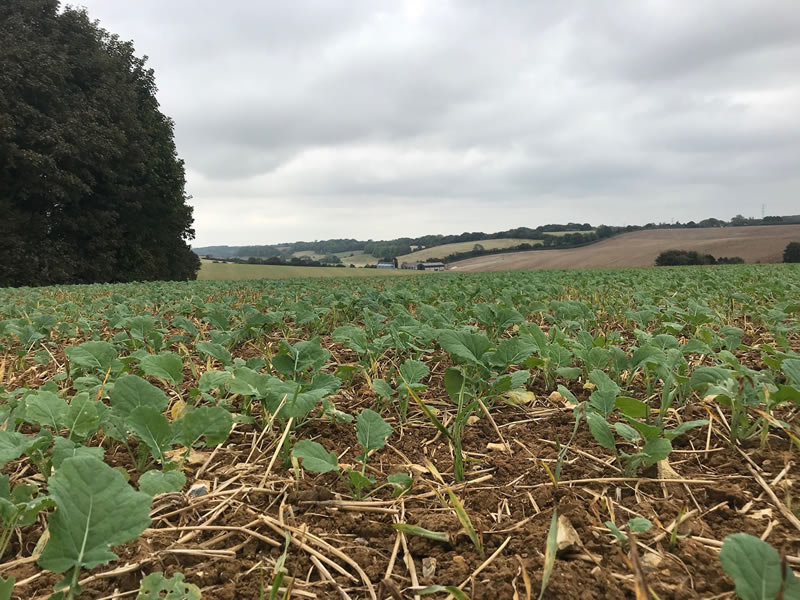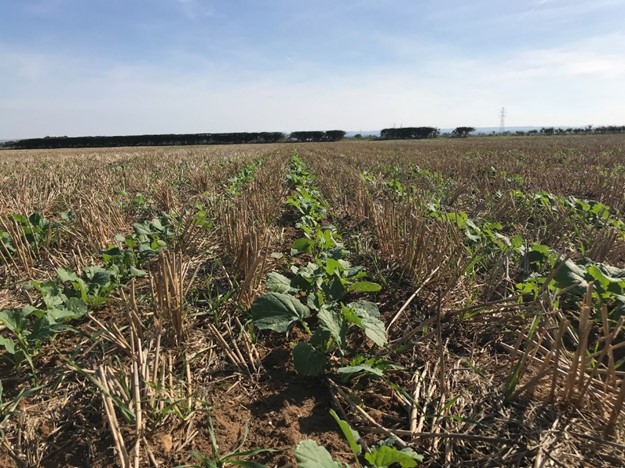 Applications coming up:
With the rain growers should monitor crops for disease, slug pressures and grass weed emergence.
Slug control: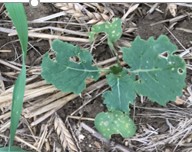 Remember to use bait traps to monitor thresholds (1 slug per a trap), where application is necessary use either metaldehyde or ferric phosphate for control. Please follow: https://www.getpelletwise.co.uk/home/integrated-pest-management/
Phoma and Light Leaf spot: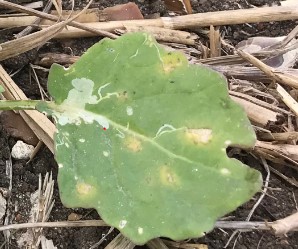 Increased rainfall and warm temperatures could promote phoma risk. Only apply fungicides when thresholds reach 10%. More information and disease forecasts visit https://ahdb.org.uk/phoma.
Light leaf spot has been spotted in the east. Please follow this link for the forecast update under the AHDB: https://ahdb.org.uk/knowledge-library/leafspots
https://cropscience.bayer.co.uk/blog/articles/2017/10/spotcheck-check-your-leaves-for-light-leaf-spot/
Herbicides
Limited activity from pre-em herbicides, if applied, could have been seen due to the dry weather at drilling. Post-emergence herbicide timings are coming up, where oilseed rape is over GS11 (1 true leaf unfolded) you can apply herbicides to the crop. Given the recent rainfall black grass and broadleaf weeds e.g poppy will soon appear.
Belkar a new corteva product can be used only once from GS12-GS18 as a control measure for poppies, cleavers, red dead nettle, fumitory and broad-leaved weeds. This can either be done as spilt dose at 0.25l/ha from gs12-14 or a full dose 0.5l/ha over gs16-18. Follow the label for more details.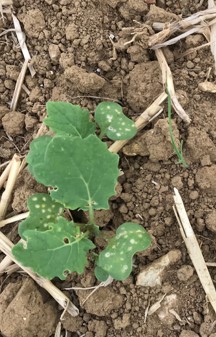 For black grass emergence Centurion Max needs be applied before the 15Th October from GS14. Follow label on application timings and methods.
Solutions to CSFB?
Direct drilling has helped conserve moisture in crops and aided establishment. Cover crops, sacrificial crops and delayed sowing have shown to have some benefit to crop health and pollinators. Cover crops require a decent frost to kill the plants, please consider alternative herbicides e.g Dow Shield to prevent risk of survival of cover crops through winter as was seen last year.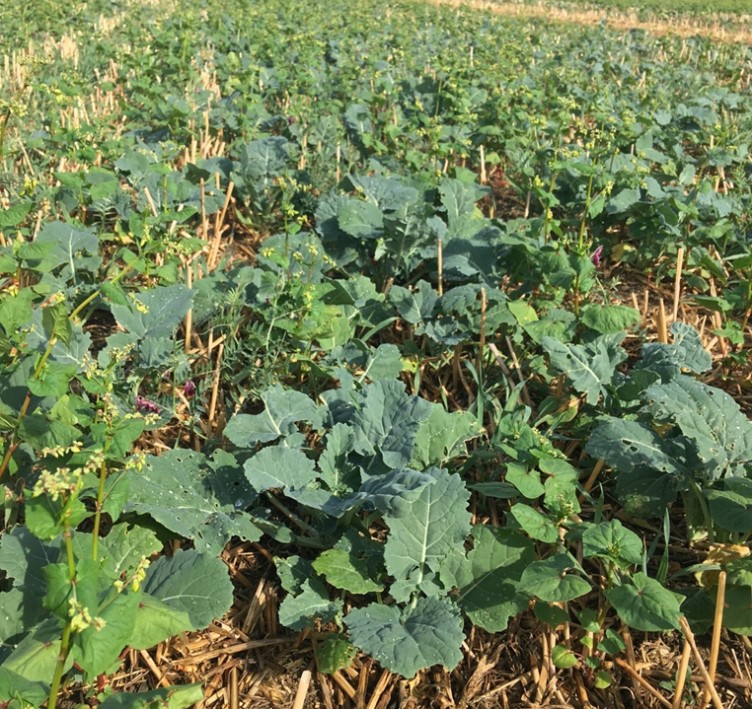 Recent research by AHDB and ADAS has found delaying drilling dates, good vigour and leaving volunteer OSR can reduce CSFB larvae burden on crops (see Figure below). The volunteer OSR act as a trap crop, where the adults fly in and feed on the volunteers. Leaving volunteers until late September before spraying them off can reduce the number of adult CSFB in new crops.
Delaying drilling has also been recommended as a means of missing the main CSFB migration into crops. This has the added benefit of reducing disease risk, such as clubroot and LLS because of lower soil temperatures and less crop present to allow LLS inoculum to build up. Leaving volunteers from HEAR crops also reduces the chance of cross pollinating with any 00 OSR crops grown in the same field in the following seasons. With delayed drilling it is important hybrid varieties with good seed vigour in autumn and spring are used to grow away from any CSFB damage that does occur.