Borage
Borage is another crop that provides the opportunity for reliable profits.
The essential fatty acid, GLA or (gamma-linolenic acid) is obtained from the seeds of the Borago officinalis plant. Deficiencies can arise due to ageing or dietary deficiencies.
Borage is the most economical source of this essential fatty acid and there is a real demand for high grade, UK-produced borage oil. Manufacturers are keen to source the oil for top-end applications, where borage oil is a valuable alternative to evening primrose oil for dietary supplements, baby foods, veterinary and personal care products.
Click here to download more information.
Bee are an important aid to borage production and Premium Crops recommends that all borage growers should aim to place two bee hives per hectare.
For more information contact:
1. Kingsley Honey Farm - Click This email address is being protected from spambots. You need JavaScript enabled to view it.to send email
2. Denrosa Apiaries - Click This email address is being protected from spambots. You need JavaScript enabled to view it.to send email
3. The Red BeeHive Company - Click This email address is being protected from spambots. You need JavaScript enabled to view it.to send email
Or visit.....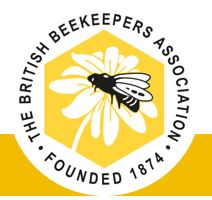 and