Winter Linseed Marketing and Prices
Markets and Prices
Once Winter linseed has been harvested, the seed is traded as normal Linseed and there is no difference between it and Spring Linseed. However, due to the early harvest, not only is there a much greater likelihood of harvesting the crop dry but also a greater likelihood of producing a good quality sample.
Hedge Price to Secure Profits
Linseed is a small crop (1.5-2 Mt only) with few major suppliers. Canada was the major source, but on-going GM contamination issues have allowed Ukraine, Russia and Kazakhstan to take over, The Linseed market has proved to be notoriously fickle, so for the UK grower, the over-riding factor is to avoid the low prices rather than to aim for the peaks.
Over the last 5 years, the linseed price has been anywhere between £275 and £425
Our advice is always to secure a sensible price, for an easily achievable quality (i.e. for crushing/compounding rather than for human consumption quality). To grow Linseed without having first locked into a price, or to depend on achieving high quality, is to take a huge gamble with the odds stacked against success. Our customers benefit from a range of marketing options including:
Fixed prices
10 - 30% premiums over OSR
Minimum prices
Combinations of the above
Any like for like offer beaten - Guaranteed
Always ring for the latest offers
Markets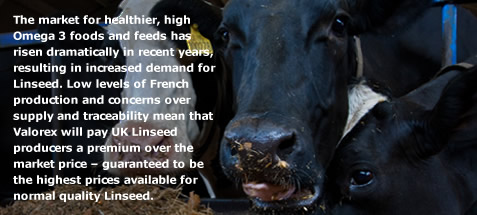 Globally most Linseed is crushed to produce technical oils for use in paints and varnishes. The oil is not used for human consumption like Rape oil.
In the UK the primary market for Linseed is for specialist animal feed, based on the naturally high Omega 3 content of Linseed. Premium Crops is the exclusive UK supplier of Linseed to Valorex, a French animal feed company. They buy over 55,000 tonnes of Linseed each year for use in animal feeds. Livestock fed on Linseed-based feeds produce meat and milk with improved Omega 3 content. The animals themselves show significant benefits. For example, dairy cows fed on this feed show:
Improved milk yield
Increased fertility
Reduced acidosis
Improved body condition
Reduced methane output