Spring Linseed Agronomy and Varieties
Linseed Growers Guide: Click on the image below to download our Linseed Growers Guide

Soil Type/Rotation
Linseed suits most soil types and is not related to any other break crop, which means that it can easily slot into most rotations.
Linseed Varieties
Linseed varieties have been screened for the most important characteristics - earliness to harvest, standing ability, yield and Omega 3 content. This ensures you have the best linseed varieties for your farm whilst growing the quality the market needs. Chasing an extra few percent of yield at the expense of earliness or standing power is false economy. The "EasyCut" varieties Marquise and Empress have established themselves as favourites with customers looking for easy harvesting, high yielding characteristics and the high Omega-3 varieties Omegalin and, especially, VT50 have found favour with those seeking additional premiums for oil quality.
Linseed Seed Rate
Over the last 20 years or so the standard seed rate for Linseed has been circa 650 seeds/m2with the aim of establishing 400 plants/m2. This (equates to 44 - 60 kg/hectare or 18 - 24 kg/acre depending on the variety sown). This was based on ADAS trials results and on varieties prevalent at the time.
In practice, the establishment rates are often far lower than this, with 200 – 300 plants not uncommon and sometimes considerably less.
In ideal conditions this may not be a problem because Linseed compensates well, branching out to fill the gaps.
However, if the crop is stressed in any way (eg poor seed bed, herbicide damage etc) the crops will often remain thin and yield can be compromised. As a very general rule of thumb, in mature crops if you can easily see the ground then they are too thin!
As part of an ongoing investment to improve the agronomy of the crop Premium Crops annualy commission a range of sowing rate trials which demonstrate that historical trends towards lower sowing rates (around 650 seeds/m2) has been deleterious to the yields that can be achieved.
Growers have the option of increasing their seed rates to 800 seeds/m2, with the aim of having thicker crops. Whilst this is no guarantee of a higher yield, it does improve the reliability of acheiving the right plant population and give the crop the best possible chance to yield. Premium Crops are subsidising this extra seed so the additional cost to the farmer is marginal.
Linseed Sowing Date/Soil temperature
Linseed has a flexible sowing window, which allows you to sow the crop when the conditions are ideal and to clear up any problem weeds prior to sowing.
Depending on the information source, as a guide, soil temperatures need to be in the region of 6-8 Centigrade
Most of our customers sow their crops from mid March through to mid April, although May planting, provided there is moisture availability, is not a problem and only has a marginal effect on harvesting date due to day length response.
Delaying drilling can have a positive effect on black grass control
more time to use glyphosate pre-drilling
reduced black grass germination
reduced black grass competitiveness
Linseed Drilling Method
Linseed is very flexible and can be established directly, minimally or conventionally to suit your system and soil types.
Linseed Drilling Depth
Linseed seed does not have sufficient reserves to overcome deep drilling. Linseed needs to be drilled to 14 - 25mm depth into moisture. ONLY if seed beds are dry should you consider drilling deeper, but never more than 40mm .
Pest Control
While Spring Linseed can be subject to attack from Flax Flea Beetles, this is a very different species to the Cabbage Stem Flea Beetles that attack oilseed rape crops in the autumn...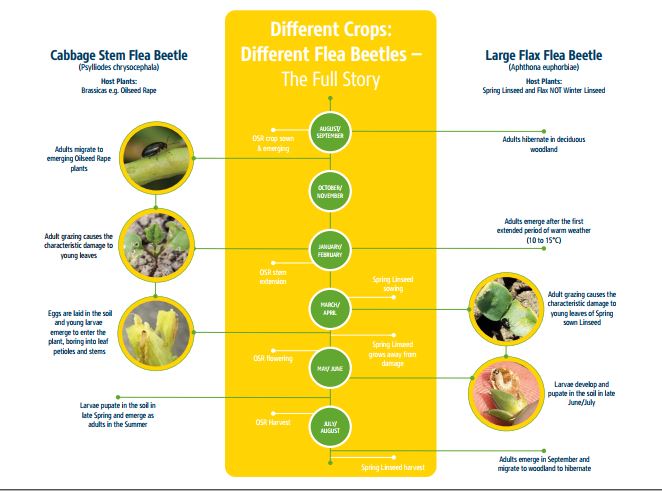 Key differences between the species of flea beetle are: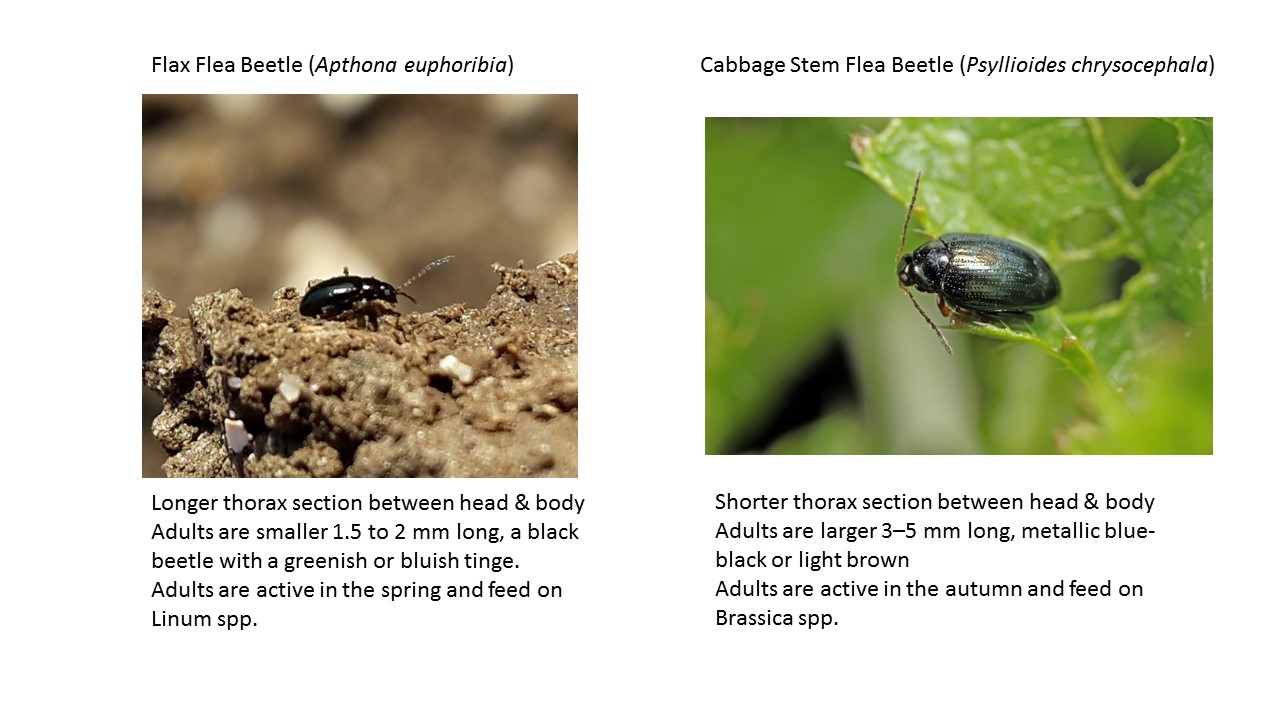 Control of Flax Flea Beetles - Symptoms of flea beetle attack are holes or notches in the cotyledons or first true leaves. If seen look for the pests themselves; when three or more Flax Flea Beetles are found on a 5cm row of linseed cotyledons, then a pyrethroid insecticide may be necessary. For crops under 5cm tall or where growing conditions are poor, Flax Flea Beetle will remain a potential problem and daily vigilance is needed. Apply an approved pyrethroid insecticide if new damage is seen. Repeat applications to cover new growth may be required—remain vigilant.
For a list of Fully Approved and EAMU Approved products visit Spring Linseed Useful Documents
Linseed Fertiliser Rates
A low P & K requirement means that typical maintenance levels are only 30 - 40 kg/hectare of P & K. Nitrogen produces good responses on Linseed and should not be a limiting factor, typically 90-125 kg/hectare (75 -100 units/acre) depending on soil type.
Linseed Herbicides
To avoid yield loss, weed competition must be removed early, so spray broadleaved weeds when they are small. Weed control is easier, cheaper and more thorough in linseed than in any other break crop. Not all approved herbicides and mixtures are crop safe and must be avoided (eg Metsulfuron methyl).
We have been promoting the use of pre-emergence "Callisto", which a very wide weed spectrum whilst being extremely crop-safe. Using a "pre-em" takes huge pressure off post-emergent control, making broad-leaf weed control much easier. Comments from growers that have used Callisto have been universally positive.
Chalk soils present a particular problem when using sulfonyl-urea herbicides on linseed. If the crop is drought stressed it can show severe stunting and yellowing. Always add Zinc to the mix. Alternatively mixtures containing Bromoxynil give good post emergence control and good crop safety
Linseed gives an excellent opportunity to control grass weeds for which various products are available. In a black grass situation always start with Avadex ,with a follow-up of Centurion Max if required
Linseed Fungicides
For the general control of foliar diseases, Triazoles (eg Folicur) are cheap but give enhanced standing ability as well as disease control which allow crops to produce their full potential even in dry years. For growth regulation, the powerful fungicide/growth regulator paclobutrazol ( marketed as "Toprex") is available with EAMU approval. This will allow us to explore further the seed rate vs N interaction more fully to promote extra yield whilst minimising the risk of lodging.
Fusarium Wilt
Fusarium wilt in linseed, Fusarium oxysporum f. sp. Lini, is limited to a host range of linseed and flax, it should not be confused with Fusarium solani, which is a complex species that is one cause of 'damping off' in a wide range of different host plants including peas, beans, potatoes and weeds such as fat hen, shepherd's-purse, chickweed, thistle, field pansy, alfalfa, as well as volunteer OSR, cereals and linseed.
Fusarium wilt Fusarium oxysporum is a soil fungus, but it can also be seed borne. Fusarium wilt can infect linseed at any growth stage and invades through the roots and develops in the water-conducting tissues which impairs water transport, resulting in characteristic wilting and plant death.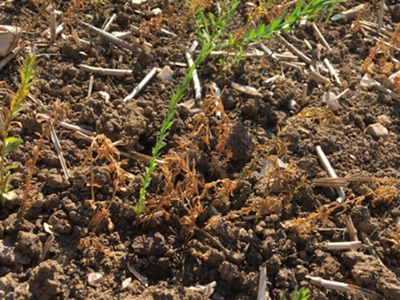 The best control method is an integrated control consisting of; rotation, tolerant varieties and crop nutrition.
Click HERE to download our Fusarium info sheet for more details
Linseed Desiccation
Always desiccate Linseed for an early and easy harvest. Glyphosate is currently the only Approved product that can be used. Before it's removal from the market Diquat was a product of choice due to easier timing of application and positive on-farm comments suggesting easier harvesting. In early 2020 the AHDB, in collaboration with Premium Crops, have submitted EAMU applications for two desiccant products; Gozai (pyraflufen-ethyl); and Shark (carfentrazone-ethyl).
AHDB were recently succesful in achjeing an Emergency Approval for Spotlight Plus on Spring Linseed seed crop - click here to read more.
Click HERE to access our guide to assesing linseed maturity
Linseed Harvesting
A well-managed Linseed crop should be ready for combining directly after completing the Wheat harvest – typically late August/early September. Ask regular growers of linseed and they will tell you that they harvest linseed faster than any other crop. How do they do this? Taking the earliest opportunity to harvest - EVEN if the stems are still green (in fact linseed straw is MUCH less likely to cause an issue going throught he combine at this stage rather than when it is "weathered" and the fibre seperates away from the stem). The knife needs to be in good condition and to be sat tight on the fingers to ensure a good "shearing" action. Click here for our combining guide
Most combines handle linseed. However over recent years we have had occasional reports of Linseed straw wrapping around the rear rotor of CLAAS Lexion combines. Our understanding is that the rear of the non modified rotor has rubber "paddles" attached to it. Linseed straw can snag on these and end up tearing them off. This wrapping is made much worse if the straw is weathered (as above). The modified rotor has metal paddles which prevents the wrapping.
From 2013, Lexion models were built as standard with a pair of Linseed rotors. There is a retrofit kit available for Lexion machines that are already in the market. Neither option has any detrimental effect on the performance of the combine.
If you have a pre 2013 CLAAS Lexion (or intend to buy second hand) you may want to check with your local CLAAS dealer about this modification.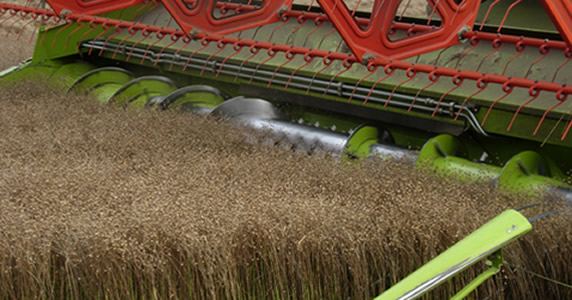 Linseed Drying and Storage
Linseed will typically be harvested at 8.5% to 12% moisture, with the market standard being 9%. Linseed can be dried in any system that will handle OSR, with similar temperature settings. Care needs to be taken when dryng linseed on-floor or in a bin system. Linseed, being a flat seed has a very high resistance to air-flow, so the drying front can stall after about a metre or so, resulting in a hard, wet layer. To avoid this, do not dry linseed on-floor above a metre in depth, or in a bin system you will need to rotate with an empty bin. For a Protimeter conversion chart click here
Linseed Straw Disposal
Linseed straw can disposed of either by chopping or by burning in the swath (it is exempt from the burning ban, unlike cereals). Linseed straw can be chopped some years depending on the season and on the condition of the straw chopper. If the material coming out of the chopper is fluffy and fibrous ( or "like a sheeps fleece" as one of our customers commented) then disengage the chooper - this material is diificult to handle and may cause problems for the drill. The most common method is to either push the straw into heaps, or easier still , bale in round bales and set-light to in situ. Linseed straw burns very hot and clean with very little ash residue. Linseed straw is ideal for on farm straw burners. It is not liked by the straw burning power stations because perversely - it burns too hot!
Following Cropping after Linseed
Linseed gives an ideal entry for wheat. Linseed does not leave any N behind, but it does leave a friable seed bed that requires little or no additional cultivation. This gives a significant improvement in soil conditions compared to that following OSR. Trials in France have shown that this benefit along with the lack of slug build-up has given a 4% yield advantage to wheat following linseed compared to those behind OSR.
For further agronomy and harvesting information browse the linseed bulletins archive
Any grower with a Linseed crop for harvest in the current year can receive the latest up to date Bulletins via email. If you are a grower with Premium crops contract for the current year and are not currently receiving these Bulletins please register your details HERE