Market Values and Contracts
Sunshine Millet Marketing and Contracts
Millet is used in wild birdseed mixtures.
Thousands of tonnes of Millet are imported from the USA, France and the Ukraine, but increasing demand from UK birdseed packers for products to be sourced from the UK -has given an opportunity for UK growers to benefit from this shift.
In the UK, the wild birdseed market is now believed to be worth upwards of £200m/year and is steadily increasing year on year. Whilst in global terms the Millet market is small (certainly compared to most other arable crops) there is certainly scope for additional UK production.
To ensure grower peace of mind, all Sunshine Millet production is contract grown. Premium Crops has established links direct to the major birdseed packers.
For added security all Sunshine Millet contracts are on the basis of the "produce of the hectarage", so there is no way growers can be in a default situation - very important with a crop that they could be unfamiliar with.
Millet values normally lie in the £250 - £300/mt mark.
Premium Crops can offer cleaning, drying and storage facilities.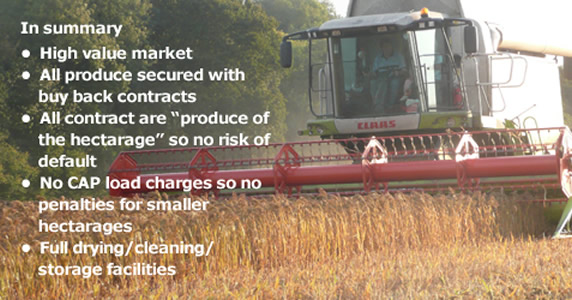 .