Canary Seed Agronomy
Soil Type:
Moisture retentive soils (not very light sands). Fields should be free of Couch and adequately cultivated.
Drilling Date:
Mid-March - late April, when soil is warming. If moisture is not a limitation then May plantings are acceptable.
Row Width:
As for cereals.
Planting:
Sow shallowly into moisture. Canary Seed is small, so rolling is often beneficial. If using Avadex for grassweed control, planting should be at 2.5 cm to give adequate depth protection.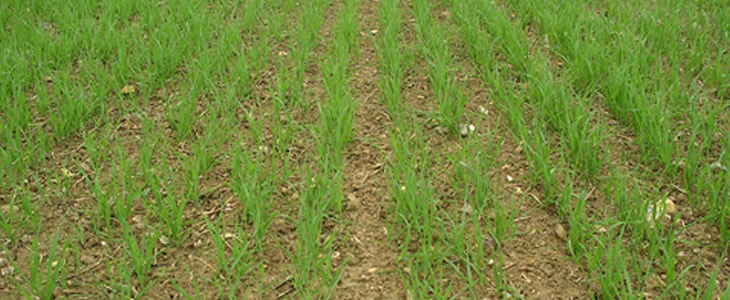 Seed Rate:
Canary Seed is similar in size and shape to Linseed seed and slightly fatter. Average Thousand Grain Weight (TGW) for Canary Seed is in the range 7 to 8 grammes.
Target plant population after establishment is around 300 to 350 plants per m2 and, depending upon seed bed conditions, growers should aim to sow 400 to 450 seeds per m2 to acheive this.
At 8g TGW a sowing rate of 35kg/ha will represent around 430 seeds/m2.
Weed Control:
There are EAMUs in place for: Avadex Excel 15 g (grassweeds), Starane Hi-Load HL (broadleaf weeds) and Mircam Plus (broadleaf weeds). There is no post emergent control of grass weeds in Canary Seed.
PGR:
An insurance application of growth regulator is recommended. Canary Seed has an EAMU for Optimus and Stablian.
Pests:
The only pests are aphids in the ear - an EAMU exists for Teppeki.
Disease:
No diseases have been found to date.
Fertiliser:
Canary Seed has a low demand for fertiliser.
There is some evidence that Canary Seed will respond well to Potassium, which should be applied to the seedbed. Typical rates are 25 - 30 kg/ha depending on the index.
Nitrogen can be applied and incorporated into the seedbed, after drilling or after crop emergence as convenient. Demand is low, but for index 0 situations (following a straw crop and with no recent organic manures) 60 kg/ha is adequate. If the farm has a known Sulphur deficiency this needs to be corrected.
Trace Elements:
Manganese and Copper may be required if deficiency is common on the farm.
Data from Canada has suggested that Chloride was found to reduce seed abortion and help grain filling. Responses where seen when canary seed was stressed or under high yielding conditions.
Crop Height:
1.0 - 1.5 m.
Desiccation:
To ensure an easy harvest crops should be sprayed with a high rate of Roundup pre harvest.
Combining Date:
Late August - early September. At harvest the seeds will be hard, like Cereal seeds.
Harvesting:
Direct combine. Canary Seed does not shed its seeds, so patience is required. Canary Seed needs a good thrash to free the grains from the ears, but avoid skinning the grains as this may reduce the value of the crop. Typically 5% of skinned grains is permissable
Cleaning,drying and storage:
Canary seed CanaccTh Canary seed seldom needs drying. Most crops will be harvested at 9 - 11% moisture . Likewise.
Market Standards:
13% moisture, 2% admixture.
Yield:
Likely range 2.0 - 3.0 t/ha.
Value:
Likely range £400-£450/t.
Straw:
Canary Seed straw has a similar value to rough hay.