Latest News
Post Cereals Review
Published: Friday, 13 June 2014 10:58
It was good to see everyone who dropped in at our stand at Cereals 2014 this year, especially as we were joined by our new colleagues from Technology Crops. We also had our friends from NIAB joining us occasionally(NIAB are performing the selection/breeding of Ahiflower).
We found this year there was some heavy interest in the High Erucic OSR. Talking to many farmers, we did hear some rumours and misinformation about the high erucic that we would love to clear up.
First off, there was the rumour about volunteers and contamination. Some agronomists have been falsely saying that if volunteers from High Erucic are found in double low OSR then there is a high risk that there double low will be rejected. This is untrue, and we have not heard of it happening once. Another rumour going about is that once you grow High Erucic on a piece of land, it is going to be contaminated and you can't use it to grow double low ever again. This is totally untrue; most oilseed rape used to be High Erucic before the development of canola in the 1970's.
Another rumour that has been going around has been that High Erucic gives a lower yield in comparison to double low. While this might have been true ten years ago, nowadays with varieties such as Palmedor it is yielding exactly the same. Even if it were true, with our 20% premium offered for High Erucic, it would more than make up for the 1 or 2% rumoured dip in yield.
Blackgrass
The other thing that seemed to be on everyones mind was the issue of blackgrass. While always being a murmur among the agricultural community, it seems there is a growing crescendo as more and more farmers are blighted by blackgrass. We foresee a rise in spring cropping in the next few years, and we would be happy to speak with you concerning that.
Ahiflower
Another crop that surprised many farmers this year was Ahiflower. A crop we have acquired from our joining with Tecnology Crops, it is a modern form of Corn Gromwell that is in demand due to its high Omega 3 and 6 fatty acid properties. An up and coming spring and winter crop, more information can be found at www.ahiflower.com
Premium Crops - Cereals 2014
Published: Tuesday, 10 June 2014 09:42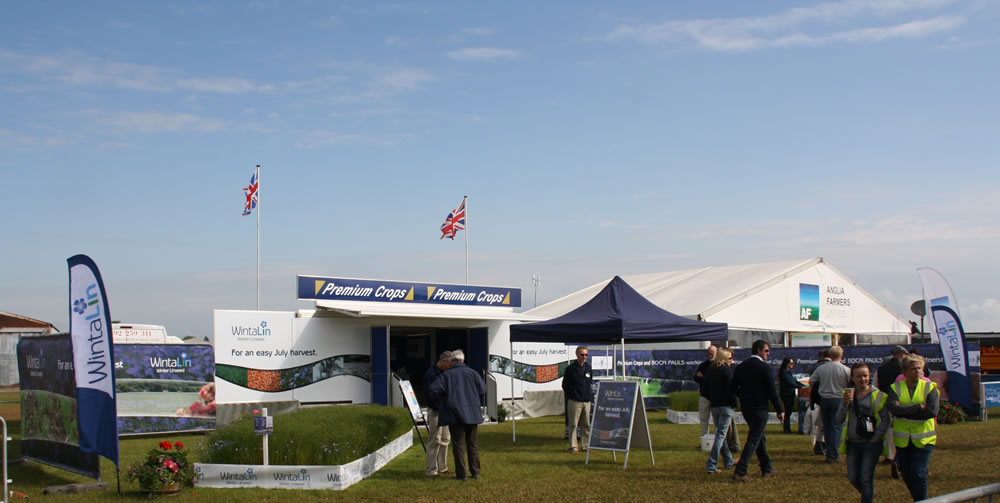 This year, with a difference.
As I am sure you have heard, Premium Crops have joined up with Technology Crops International in order to provide you with a more focused and improved service. Given this new change, we will be exhibiting with them at their stand at Cereals from 11th - 12th June 2014.
Situated at stand I-948-9, we invite you to come join us for a quick chat, a cup of tea and some friendly advice. Come and talk to us about how you can increase the price you receive for your OSR by £50/mt.
We look forward to seeing you there!
Premium Crops