News from the Field - Winter Linseed 2020 / 2021
News from the Field - Winter Linseed
April 2021
Most winter linseed crops are well into stem extension. The cold night time temperatures have caused delay to some spring applications, outstanding herbicide applications should now be completed. There have been some calls asking if a PGR is required and final fertiliser doses in the dry conditions, there is still moisture further down the soil profile. Always apply a PGR to winter linseed during stem extension (Figure 1).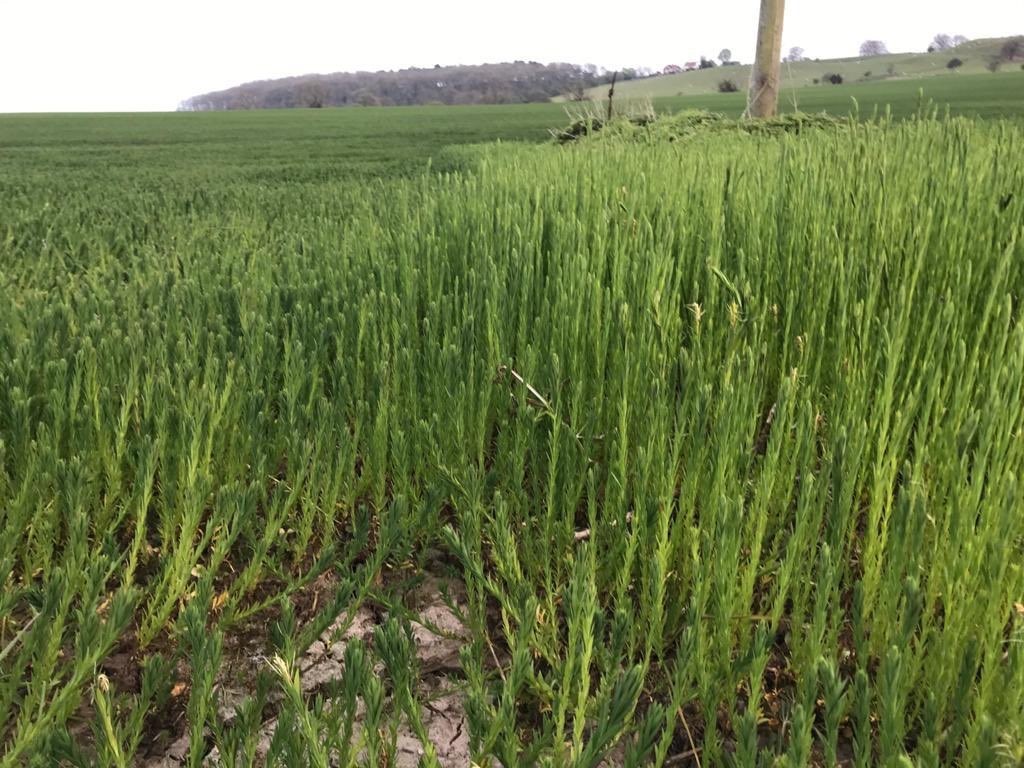 DO NOT apply fertiliser to winter linseed during stem extension, this will not benefit yield and will increase the risk of lodging. The most forward crops are just heading into green-bud now.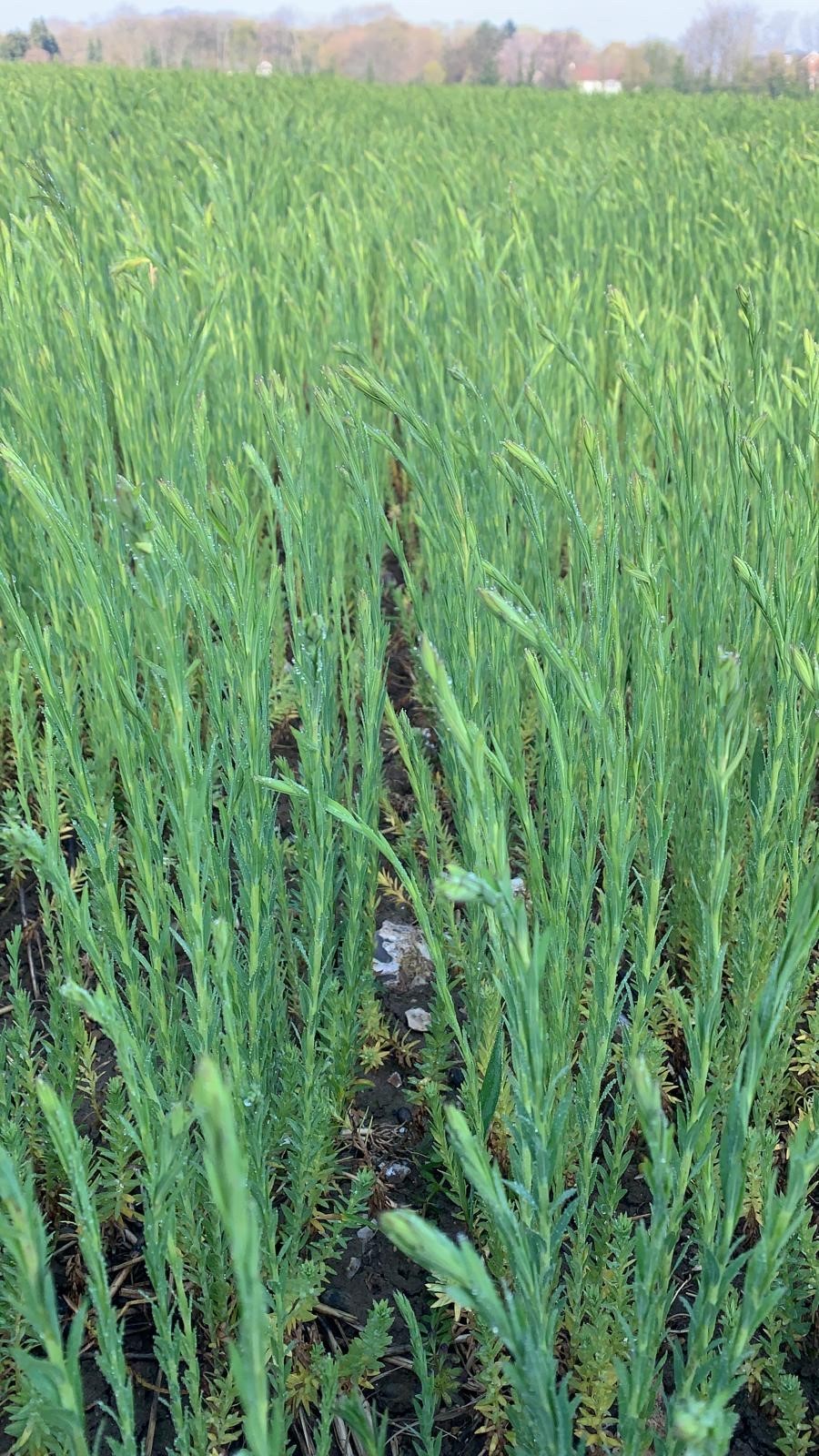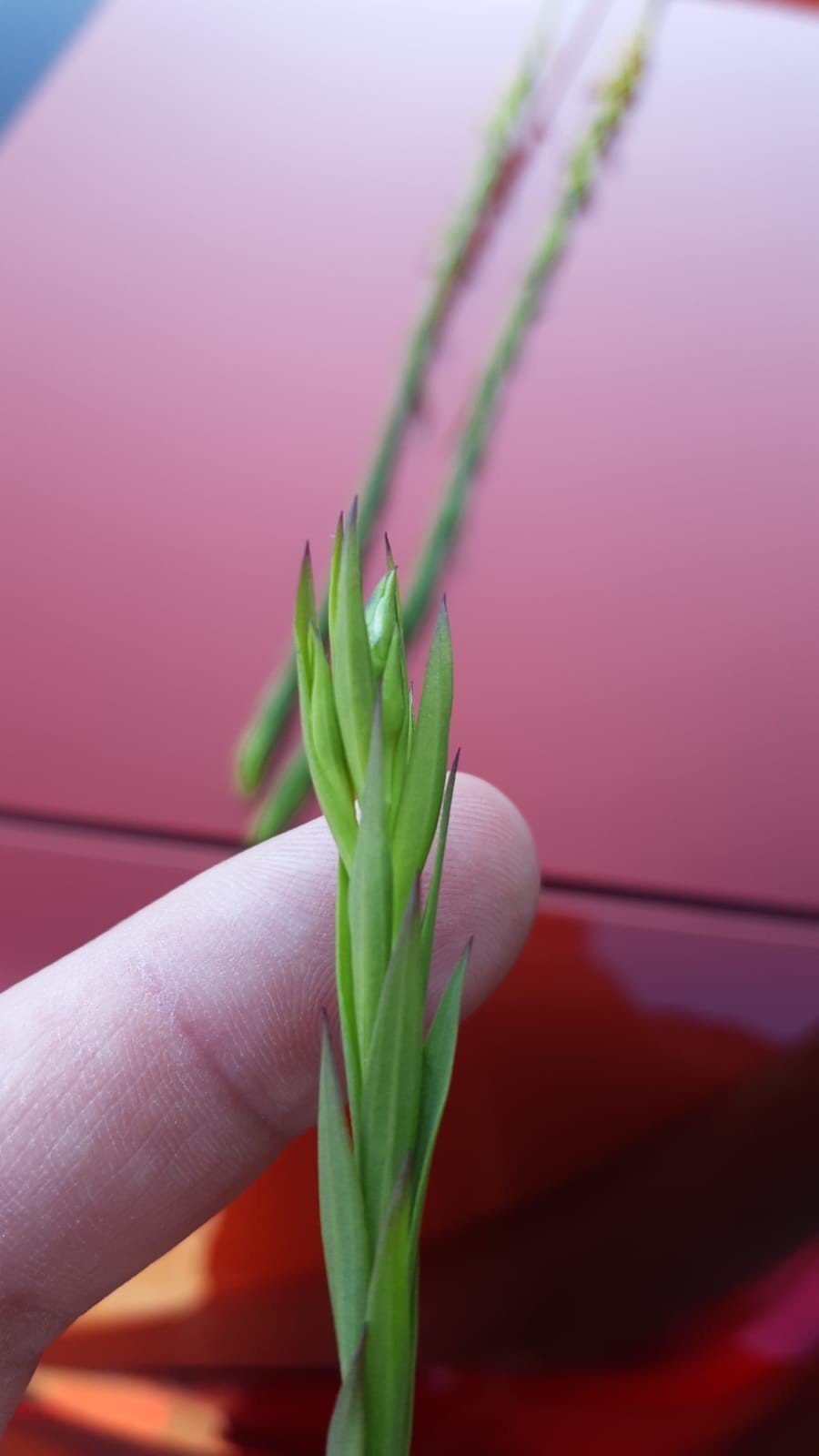 February / March 2021
The late February winds have impacted some way or another on winter crops. Damage to winter linseed varies from minor to more severe, between farms next to each other and within fields. Winter linseed is a tough plant and has an excellent ability to recover from damage. Where tillers have been lost, winter linseed can produce new ones from the base of the stem and is able to adjust the number of new tillers to plant population.
The first picture below is from Simon Beddow's blog of his winter linseed showing the crop on the 15th of February and below that is another image of the same crop on the 13th of March. By Friday 19th March, after a few days of temperatures going from an average of minus 2 to plus 12, new growth was already evident and it now looks like it's mostly ok.
Follow Simon Beddows Farm throughout the season via our Monitor Farms page and his blog https://simonbeddowsfarmers.blog/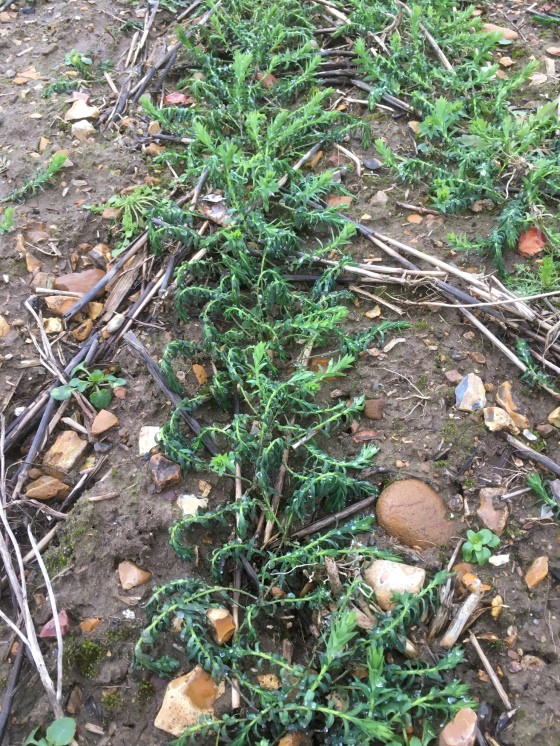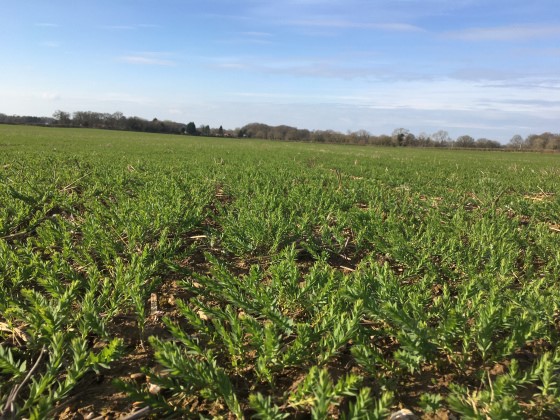 Where damage has been seen, growers should check crops for any signs of growth coming back. Any light green growth is a sign of recovery. If you are concerned please contact Premium Crops, the agronomists are happy to come out and advise.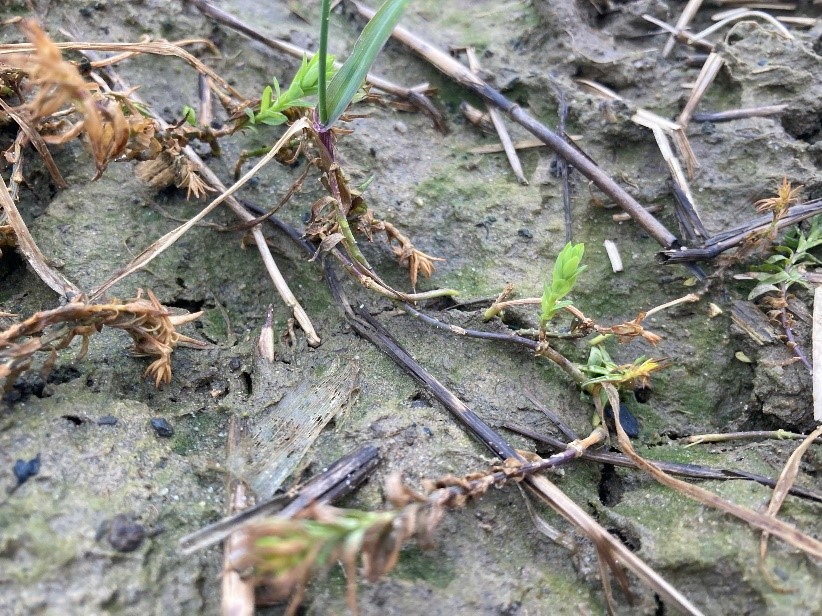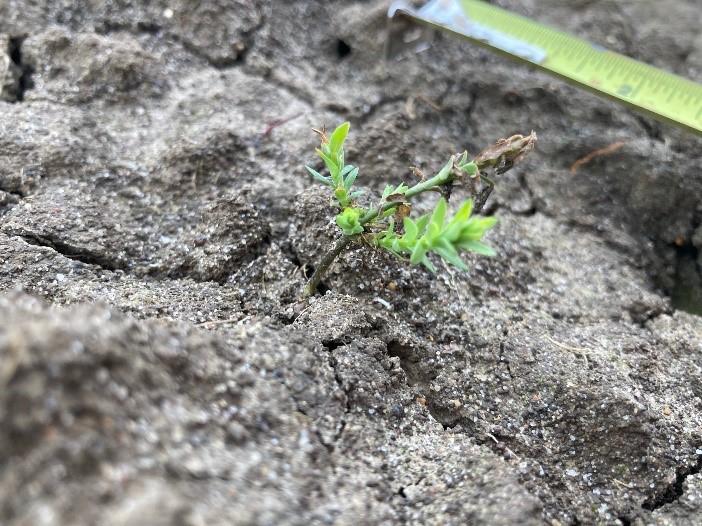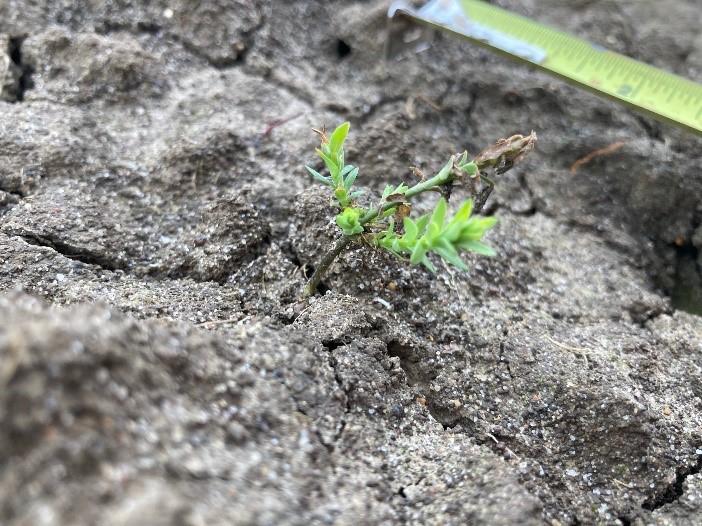 December 2020 / January 2021
The cold weather has arrived, and with it hopefully slowing of any disease in the canopy. Premium crops have seen linseed will survive down to -15°C. It is now too late for Crawler applications, if applied now there is a risk of stopping linseed growth in spring when linseed should be growing away. Where fungicide applications have not been made, unless high levels of disease are seen on leaves, waiting until spring.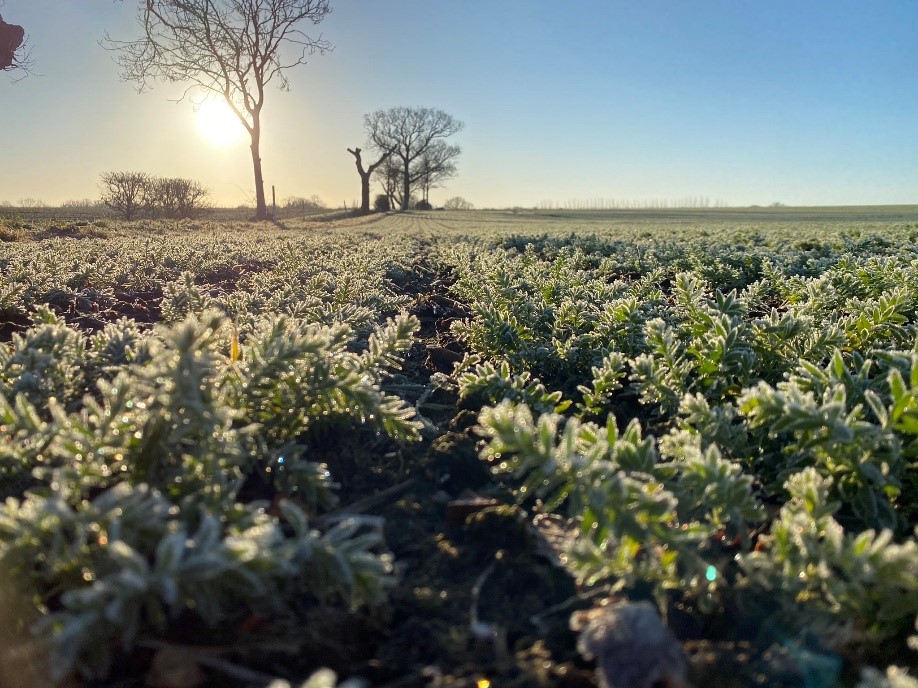 Winter linseed in the spring needs minimum fertiliser applications, with a maximum 50kg/ha of N. Linseed is very good at scavenging nutrients, and excessive early applications will increase the risk of lodging. Linseed does not re-mobilise early applied fertiliser, which means crops will be tall and leggy and no benefit to yield will be seen. Most fertiliser is applied just prior to flowering (green-bud) where yield is being built. Where crops are thick and taller than 20cm leaving winter, priorities a PGR application over fertiliser.
In the spring some pigeon grazing may be seen, move them on if seen. Symptoms are the growing point removed from crops and increased tillering from the base of the plant (see picture below).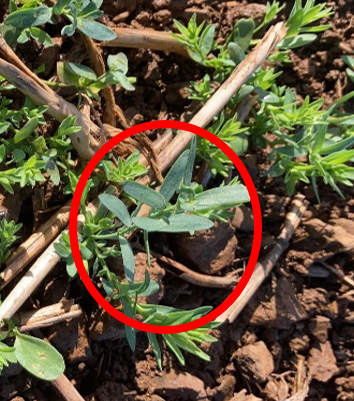 Glyphosate damaged Linseed - an update
The linseed plants damaged by glyphosate drift in November have recovered, with encouragement using micronutrients. Linseed is very sensitive to glyphosate and the smallest amount left in spray tank or drifting through the hedge will cause crop damage. Where this occurs before the crop reaches stem extension, there is a chance of recovery. If the crop is stunted and yellow, consider applying some micronutrients to encourage recovery.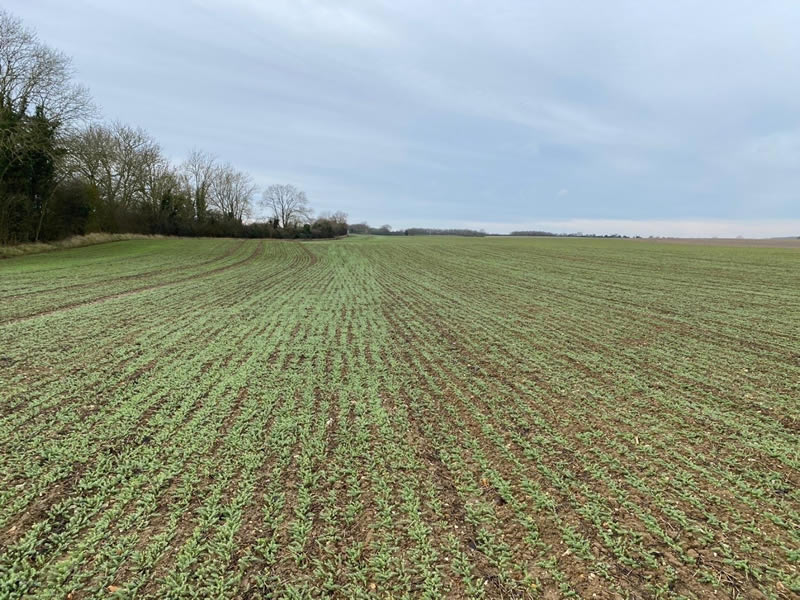 Row width
One of frequent questions is drilling row width for winter linseed, and target plant populations. Winter linseed is very responsive to plant populations and will branch (tiller) to fill in row gaps. Therefore, while our usual target plant population is around 350 to 400 plants/m2, this is flexible and row width can be up to 25cm wide with no problems to yield. The images below shows two fields sown at different row widths, but both well established. The field on the left has unusually 37.5 cm row widths compared to a cereal row width on the right.
Although with agriculture it is always difficult to draw direct comparisons with various soil type, weather etc, Premium Crops will monitor both crops. For the 37.5 cm row width it will be interesting to compare weed control achieved, final crop height, plant population and if there are any yield impacts compared to cereal row width crops. If yield loss is minimal, it could allow trial of machinery using inter-row mechanical weeding.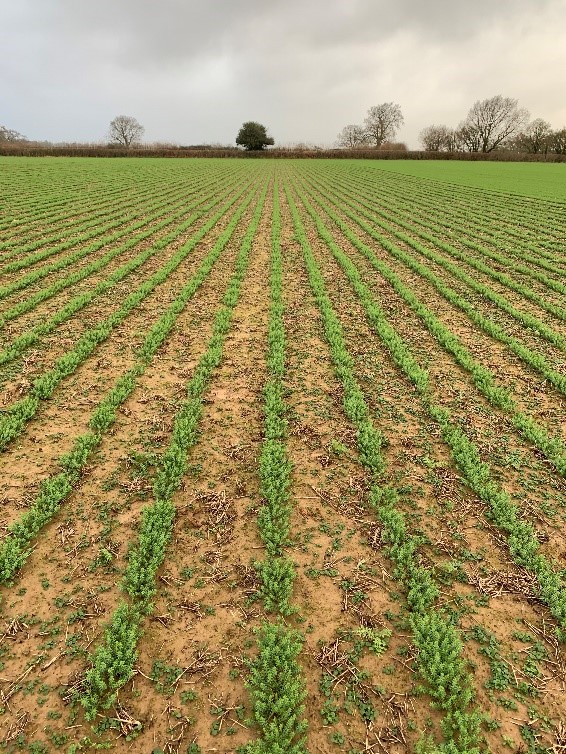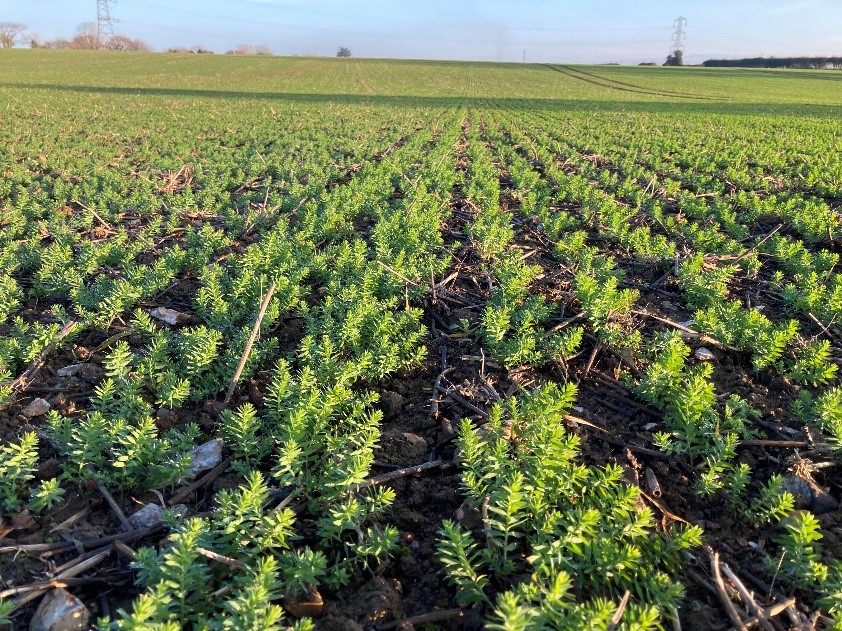 November 2020
Grass weed control has been challenging due to the weather again, however the milder weather does mean the window for herbicide applications is wider. As we head into December grass weed control should be limited to Crawler. Remember Crawler applications should only be made when weather is cooler and crops are hardened by frost a minimum height of 7.5cm tall. Applications must be on by Christmas.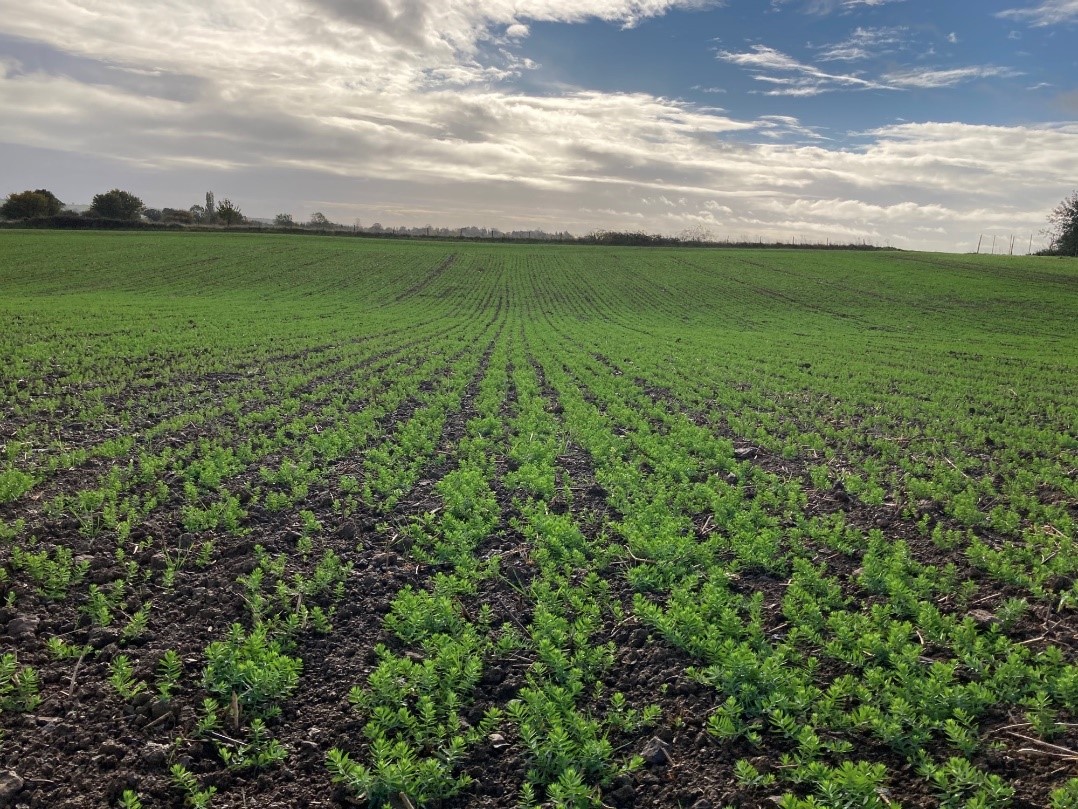 Some disease has been seen (see figure 2), remember to apply a fungicide by the end of November. Difcor has an EAMU approval for linseed, where crops are 7.5cm or taller apply some tebuconazole as a PGR. Linseed should only be 10cm tall heading into winter, as the crop is not vernalised mild weather will mean growing continues.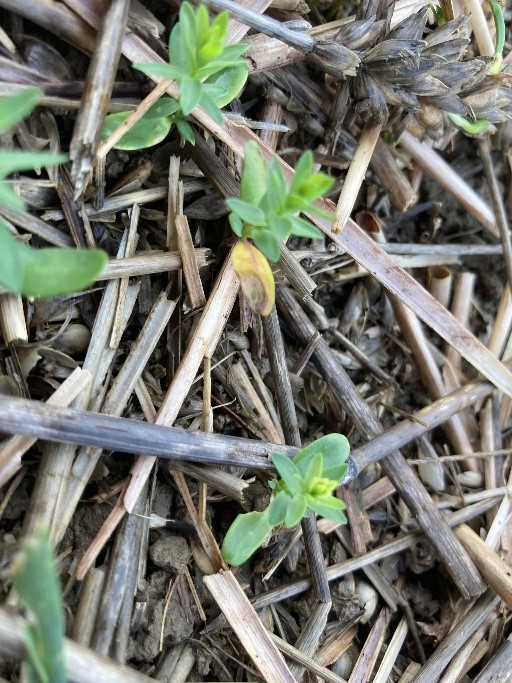 Linseed does not get grazed by slugs, as seen in Figure 3 there are plenty of slug eggs present (circled in red), but no grazing on any linseed in the field.
Some pigeon grazing has been seen at low levels; typical symptoms are shown below. The top growing point is taken off (See Fig.4 - circled in red) and the linseed branches back as a result (see light green growth). Pigeon grazing is not especially detrimental to linseed growth and encourages branching, however severe grazing can set crops back. Move pigeons on if seen.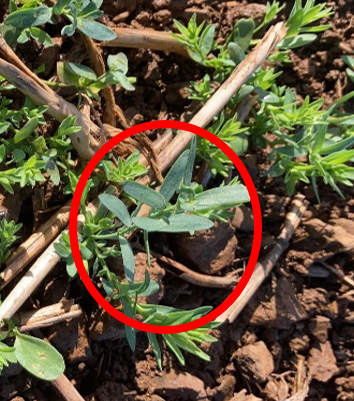 Emerged linseed crops are very sensitive to glyphosate. Growers should be aware of the risk of drift when spraying off neighbouring fields to damaging linseed. Typical herbicide damage symptoms is the crop turning white.